Last Thanksgiving was the first holiday gathering for my family after my oldest brother's funeral a few months before and as individuals, we were still holding a lot of raw grief.  After dinner, to help unify and heal, I placed wooden egg shakers, djembe, talking drums and Sakara drums around the room.  Though none of my family members had ever drummed with me before, I knew they'd all join in after a few questions (What's dis? What dis fo'?) and some crazy stares.
Ours was a chaotic beat at first and things got intense pretty quickly as everyone struck out on THEIR OWN beat!  But soon it came together when each of us started to listen and play together. I knew the entrainment would be healing.  Within about 5 (read 30) minutes, we were really sounding good.  My nephew kind of did a solo and my sister shook parts of her body that I think she'd forgotten she had. (I have video but my sister said she would take me out if it gets posted.)  Pretty soon, we were completely in sync, laughing, hearing each other in a new way and making a joyful noise together.
Djembe for Healing and Appreciation
In physics, entrainment
describes how less energy is used when two or more objects move in the same manner than is used when those same objects move oppositely.   When moving objects are near each other, they will naturally begin to synchronize to each other like harmonic pendulum.  Likewise, people who share space and activities like singing, drumming or dancing also begin natural rhythmic entrainment.
Pain and fear are released by the rhythmic entrainment of a drum circle.  Entrainment bands us together based on shared values and identities.   This coordination of energies and spirits offers powerful healing where the individual can be restored and strengthened by the collective.  
We are surrounded by rhythm from the moment we are formed in the womb, awash in the vibrations of our mother's heartbeat and movements to the time our souls rise and our bodies are placed in the grave to be cradled in the cadence of earth's nurturing rotation. Life, by nature, is rhythmic vibration.  When we create rhythm in groups, our heartbeats align.  We tune-in to higher energies.  We tap into a deeper wisdom and some may access spiritual intuition.
A Thanksgiving drum circle helped my family connect in a way that didn't require any words. For other families, it may simply be intuitive to have things that are meant to be hit near the dinner table.
Including Djembe at Thanksgiving can be a therapeutic expression of appreciation and a unique way to bond. Steps: 1. Get some djembe, sakara drum, tic toc drums and shakers .
2. Keep it simple. Start with a simple repeatable beat.
3. Let others join in. Remember not to hit the drum too hard. You'll only hurt your hands and it's not necessary to hit the drums hard to get a good sound.
4. Change drums with others and encourage others to move from drum to drum and to dance.
Shamanic healers and Native American drummers have used group drumming for thousands of years as a way to enhance consciousness and instigate healing.  But, you don't have to go as far as trance dancing on the Thanksgiving dinner table to achieve healing.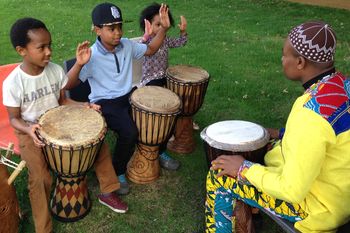 Djembe that are handmade made from natural materials (wood, goat skin, rope and cloth) are ideal for healing entrainment. Your family and friends don't need any special training to make music on djembe, Sakara drums or even with tambourines. Just start a rhythm and invite the universally therapeutic drum beat to strengthen family bonds.  
Photo credits:
 A free public drum circle at the Weston branch of Broward County Libraries.
A drum circle at Pritchard Park. Credit Rebecca D'Angelo for The New York Times.
African Drumming Family Fun Experience by LONDON AFRICAN DRUMMING.
A drumming circle on the Abegweit First Nation. (Abegweit.ca)